It's a new year and January's not yet over – this is a great time to make good on your new business resolutions. Here are a few quick and easy pointers to help you makeover your wedding photography website and put your best foot forward in 2013 by avoiding these common pitfalls:
Mistake #1: Posting too many photos
When it comes to updating your online galleries (which you should continually refresh every 3 to 4 months), don't post every photo from a wedding or event. Get critical and pick only the best, shining examples of your work. Wow your prospects with a well-edited collection of images and remove any that are just "okay". You can always create a Lightbox to send interested visitors a wider range of images at their request.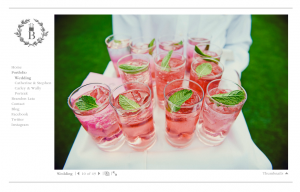 Mistake #2: Not adding location information
Even if you're a big destination wedding photographer, it's key to prominently display where you are based in your site title, keywords, Contact Us, and About pages. The bride-to-be isn't likely to contact a photographer if she can't schedule a face-to-face meeting with you before her big day – which makes your location crucial info. If you're bi-coastal or have two studios, be sure to put this in your contact information. Likewise if you specialize in island weddings, destination weddings, or are a preferred vendor at the Biltmore, these geographic details make all the difference.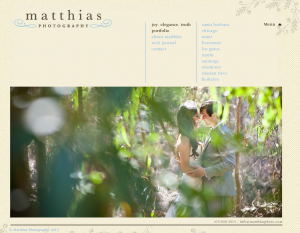 Mistake #3: Skimping on your About Me / Bio page
If your site is still displaying the default place holder page with "Contact Me" and a link to your email address, you need to invest some time in crafting your About Me page STAT! Your prospective brides are looking to see if your personality and shooting style will mesh with theirs and if you're a little bit rock 'n roll and she's a little bit country – it's good to know that upfront. No need to write a novel, but a couple of paragraphs describing what your brides can expect when they hire you to shoot their wedding and why you're qualified to do it makes everyone's job a little easier. Have an objective friend or fellow photographer proofread your statement for honesty and typos – or you can even recruit someone to write your bio for you.
Mistake #4: Hiding your contact information
Now that your bride has added you to her shortlist of vendors to call, don't make it hard for her to get in touch with you. Display your email address, studio location, and phone number on your contact page. Just add a link to your email address so it'll pop up her email client and she can quickly jot off a note to you. If you want all inquiries to follow a particular format, you can use a third party app like Wufoo (http://www.wufoo.com/examples/) to create your own custom form and link it to your site. It's also easy to use clickbooq's integration with your social networks to add your Facebook and Twitter links to your site. Once your visitors have friended and followed you, they have the option to post to your page or direct message you for more information.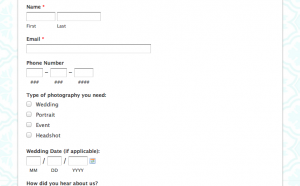 Mistake #5: Not including pricing information
While you don't need a Chinese menu of packages and prices, many brides will find it helpful if you provide a rough estimate of how much it costs to hire you and an idea of the albums and add-ons you can provide. Most brides have a budget in mind so be honest about what your time and talents are worth – this isn't the time to low-ball. Even by just including a single line, like "packages begin at $xxx" will help you prequalify your leads and expectations.