We are pleased to announce a major upgrade to clickbooq's service, with new updates and features that are free to all clickbooq users.  All users and websites were upgraded to the new system on January 17th.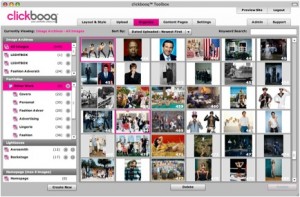 We've made improvements across the board to clickbooq's web-based software and client websites, making it even easier for you to create and maintain a custom, full-featured Flash portfolio website. With clickbooq 3.0, you can start selling your images and specialty products online with an integrated PayPal shopping cart. You can also create multiple portfolio sections and custom-name each one. Your new site has even more design flexibility and customization options plus features to help increase your profits and move your business forward.
New Features & Updates
Layout & Style:
We've given you even more fonts to choose from – check out Flood, Copperplate, Eurostile, Graphite, Optima, Trade Gothic, and VAG Rounded – choose the perfect typeface for your personal style.
Organize: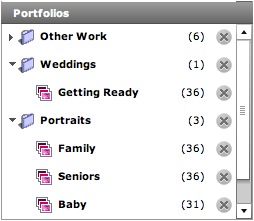 Organize your portfolios with our newly designed tree menu system, making editing easier and more intuitive than ever.
Create up to 3 Portfolio sections, each with their own sub-portfolios. And you can custom-name all of your Portfolio sections – change Portfolio to Work, Gallery, Projects, etc. to suit your needs.
Start selling your prints online with an integrated PayPal cart. Perfect for selling your artwork, this simple cart lets you create products for sale and handle payment through PayPal's secure interface.
New Lightbox feature allows the display of image file names, instead of captions, for easy file referencing and proofing. Toggle this feature on/off for individual Lightboxes you've created.
Enhanced Lightbox messaging tool allows for BCC/CC support.
Set your Homepage to random slideshow – your homepage slideshow rotates randomly through six of your selected images – a different look each visit.
New Image Sort function helps you quickly browse and locate images within your Image Archives.
Unlimited image caption length – get as descriptive as you want.
Content Pages:
Enhanced usability for creating your Content Pages and buttons.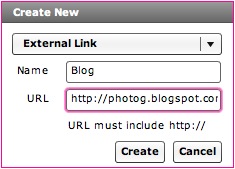 Link directly to Email Addresses or external URLs from the Navigation Menu – great for sending your visitors to your Blog.
Create PayPal Add to Cart buttons for your content page links so you can start selling your specialty items (ie. Books, DVDs, actions).
Settings:

Intuitive image click-to-advance feature now allows reverse viewing as well as ghosted arrows to indicate direction.
Set your slideshows to start automatically for your Portfolios. You can also control the delay in seconds between images.
Upload your own custom Favicon. This custom graphic gets displayed next to your website address in the web browser.
New editable Terms page allows you to set your own copyright and usage information.
Other Site Enhancements:
Sites now support deep linking which allows you to directly link to specific portfolios or Content Pages of your site. Useful for directing clients to specific sections of your site as well as for enhanced search engine visibility.
Portfolios can now loop in reverse, once all portfolio images have loaded.
We'll be posting more information and tutorials on these new features. First one up is setting up your integrated PayPal shopping cart…
Images courtesy of Gavin Bond Photography.