Today we announced a search engine friendly HTML companion site for all users. You don't have to download anything or upgrade any software to get it, in fact your HTML site has already been up for the past few days.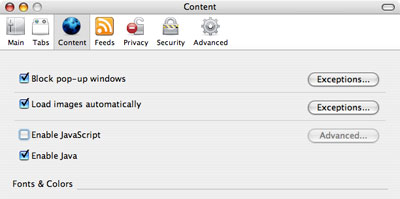 This site is for users who don't have javascript installed (about 4% of browsers according to the latest stats from thecounter.com ) and it seamlessly extracts every image, thumbnail, title, caption, and keyword from your published portfolios. It even extracts the links you've added to your Content Pages. To see what the site looks like, you'll have to disable javascript in your browser's Preferences.
Along with your images and thumbnails, you should see all your portfolio and content page titles. If you click a portfolio, the image titles, captions, and keywords are displayed for all the images within the portfolio. If you click a content page, you can see all the links you've added. In the screenshot below, you can see fashion photographer Peter Koval's HTML contact page plus links to sites where you can purchase his images. In a future release, we hope to add text editor functionality so we can extract the text you've written for your bio, contact pages, etc.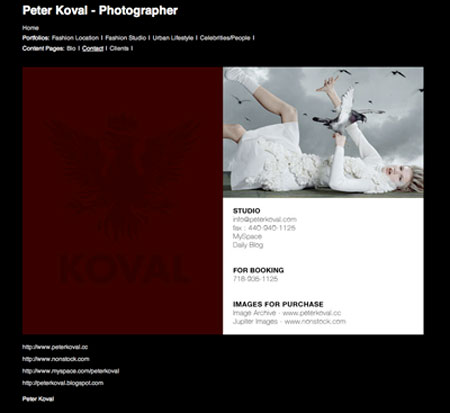 But the main reason for us to add this new functionality was to help increase your search engine relevancy. Search engine spiders do not read javascript and cannot see images, making it difficult to properly index Flash and image-heavy websites. So the HTML site gives spiders content they can index which then helps people find your site through Google, Yahoo!, etc.
There's one more added bonus to the HTML site – your site is viewable in any web-enabled smartphone, like Apple's iPhone. Since it seems like every art director and agency person I know has an iPhone these days, they can browse your site within the iPhone's crystal-clear display. And if you're one of those lucky to have an iPhone of your own, hey, you've got your website in your pocket! Beats any business card, that's for sure.
Next post I'll talk more about how to increase awareness for your site and tracking your results with your integrated google site analytics.