We are pleased to announce a new partnership with RedCart to bring all clickbooq users a full-featured and easy-to-use online proofing and shopping cart system. We know being able to sell your prints and specialty products online to your clients is an integral part of your business. Since your shopping cart site should be an extension of your portfolio site, we looked for a solution that was as customizable and easy to update as clickbooq. Based on recommendations for our current users, we discovered RedCart, whose design, functionality, and philosophy were very similar to ours. Like clickbooq, RedCart is a web-based application that was built on the Adobe Flex platform, a framework for building and maintaining applications that deploy consistently across all major browsers and operating systems. It also allows for rapid updating and development – key for adding new features and updates to keep pace with the needs of the photo industry.
Upload your own custom backgrounds to match your branding. Image courtesy of Red Leaf Studios.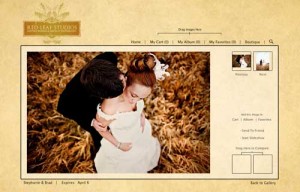 In doing our initial research, we were surprised to discover some of the software for photographer's online ordering systems did not work on Macs or ran into compatibility issues. We also did not favor systems that locked you into a predefined list of photo labs. Since photographers have unique needs and different workflows, we wanted to give as much flexibility as possible for offering the products and services you want and fulfilling your orders. This lets you maintain control of the quality of your finished products and ensures you are the only one contacting your clients. Any services that tacked on hefty commissions or transaction fees was also a no-no.
Of all the services we compared, RedCart had by far the most reasonable and straightforward pricing. All you pay is a subscription fee, on a monthly or annual basis. And through our partnership with RedCart, we are able to offer special pricing just for clickbooq clients. There are no commission fees, per print fees, per gallery fees, sales transaction fees (other than from your payment processor, if you accept credit cards through your merchant account or PayPal), shipping and handling costs, or order minimums. By processing your own credit card payments, you'll pay on average 3% compared to the 10% – 15% most of these proofing services are charging. If you are selling $500 in prints a wedding, that adds up to a difference of $60 per client. And if you are already processing credit cards in studio, it's a no-brainer to process credit card transactions through your own merchant account.
The shopping cart is smart, intuitive, and all-in-all, a pleasure to use. And it includes all the bells-and-whistles you would expect for a high-end service: flash galleries and slideshows, password-protected galleries, client-enabled cropping, black & white and sepia tone previews, custom order confirmation emails. And from the admin side, you'll have access to client login stats including login emails, sales and revenue reports, the ability to set your own gallery expiration dates and send email reminders. We think you'll find it gives you everything you need to offer ecommerce through your website. To find out more about this new service, visit clickbooq.com/proofbooq.
Enable customer cropping of your images and save on image processing and production time. Image courtesy of Cory Parris.