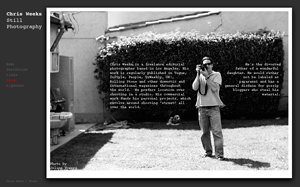 While the heart of your professional photographer website will be your portfolios and images within them, you should devote careful consideration to your non-portfolio pages as well.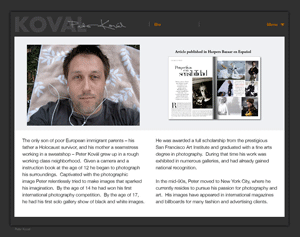 To follow up on the tutorial about creating your Content Pages, I thought it would be helpful to offer a few suggestions for the five pages that come with your website, plus include examples from some of our fine clients.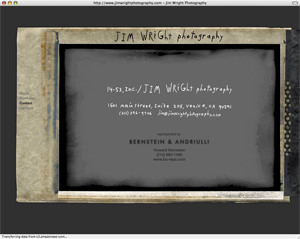 About – This can be a short bio, how you got your start in professional photography, where you're from, interests outside of photography. Don't be afraid to show some personality or impress us with a few plum assignments you've been on.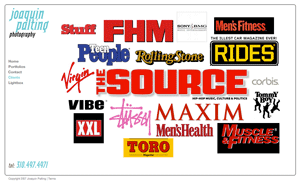 Contact – At a minimum, this should include your email address, phone number and mailing address. You can also add your agent's contact information. Create buttons to link any of the text to a website address or email address.
Clients – Here you can provide a list of your past clients. It can be a simple list, or you can add company logos and links to company websites. You could also include client testimonials.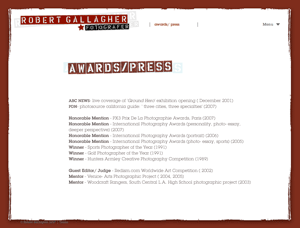 News – let people know where you are, what you've been working on and upcoming events. You can also add a link to your blog where people can get more detail on your day-to-day. Or post links to feature articles and awards that highlight your accomplishments.
The beauty of our system is you aren't stuck with a templated page – you can always create new Content Pages and update your links easily. Nothing's worse than having outdated contact information on your website – would you give out a business card with the wrong phone number or email address? Treat your website the same way and keep it current.
Content Pages, from top to bottom: Chris Weeks (http://chrisweeks.net), Peter Koval, (http://peterkoval.com), Jim Wright (http:// jimwrightphotography.com), Joaquin Palting (http://joaquinpalting.com), Robert Gallagher (http://gallagherphoto.com).